History Of Gambling In Australia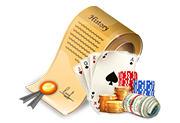 Australia is the biggest gambling nation in the world. Over 80% of adults admit to enjoying the occasional flutter, with Pokies being the most popular choice for many. While support is rightly provided for problem gamblers, thousands of Aussies happily enjoy gambling as a fun past-time, each and every day.
Here you can discover how gambling grew to be so big Down Under. First up you can find out how modern gambling began in Australia, then how the business grew in the 20th century. The advent of land-based casinos is covered next, before seeing how international sites stand in Australian law.
Origins of Australian Gambling
While gambling can be traced back throughout human history, modern gambling in Australia was first introduced by European settlers. Australia's liberal approach towards gambling, led to many popular colonial sports being bet on, from boxing to billiards, then later on, organised sports like football and cricket.
The earliest gambling activity to be dated was horse racing. A popular betting past-time in Britain, the first Australian horse race was organised in 1810 at Sydney's Hyde Park. Horse racing's popularity spread through many towns and settlements, and was soon joined by greyhound and harness racing.
As the 1800s drew to a close, Australia saw a series of bribery scandals involving cricket, football and cycling. This gave ammunition to the largely Puritan opposition to gambling, leading to sportsbetting being made essentially illegal by the early 20th century. The only exception was horse racing, where wagers could be accepted at the racecourse.
The Growth of Gambling
As telephones and radios developed and became more popular from the 1930s onwards, so too did criminal activity surrounding off-course betting. The ease of communications meant bets could be placed remotely, or a race could be followed live, leading to potential bookmaking opportunities.
In order to combat this, states began to relax off-course betting laws, and allow legal betting shops. This also led to the first state operated Totalisator Agency Board, or TAB being formed in 1961. This tote betting organisation, ran huge pools and became both a revenue generator for the state, and an attractive alternative to the illegal bookmakers. TABs continued as state government ran businesses, until their privatisation in the 1990s. This resulted in TABs involvement in other gambling activities.
This liberalisation of gambling laws continued throughout the 20th century, with legislation passed at a state level. The 1950s and 1970s, due in part to economic circumstances, saw an increase of legislation in favour of state lotteries, and the introduction of legal pokies.
The 1980s and 1990s then saw many states coming into line with each other, and even the most conservative areas accepting common forms of gambling. Along with Keno games becoming legal, instant lotteries were launched and pokies were widely permitted.
Land Based Casinos in Australia
Even though states were taking a more relaxed view toward gambling, the first legal casino was not opened until 1973. While the opponents of gambling were partly to blame, overall there was no market for casino games in Australia then. It took the 1970s economic downturn, together with the increased potential for attracting tourism, which led to Tasmania opening the Wrest Point Hotel Casino in Hobart.
From 1979 and into the 80s, more casinos slowly began to appear. The early casinos were small, club-style operations ran by private companies. As the 1980s progressed and the gambling industry became more respectable, greater investment was courted from large corporations. The 1990s eventually saw Las Vegas style resorts opening, providing luxurious entertainment facilities alongside casino games.
Currently there are 18 casinos in operation across Australia, with the Crown Sydney due to open in 2019.
International Casino Sites
The rapid growth of internet gambling from the late 1990s onwards, left many countries without adequate legislation to cover these activities. Australia was one of the first countries to attempt to directly address this, with the Interactive Gambling Act of 2001.

Unfortunately the law was not in favour of online gambling and the IGA prohibited the provision of real money gaming to Australian citizens. However, the law does not prevent players from wagering real money, instead the emphasis is on the operator.

As Australian law can only govern its own jurisdiction, many sites continue serving the market from legal international territories. They believe they are not breaking laws providing they are not operating within Australian boarders. To date no action has been taken against an operator for supplying games.

In addition to the licensed online sportsbooks, which are totally legal, as an Aussie you can still enjoy many top international casino and poker sites, without fear of breaking the law.